Weather Blog: Winter Storm System Coming in 2 Waves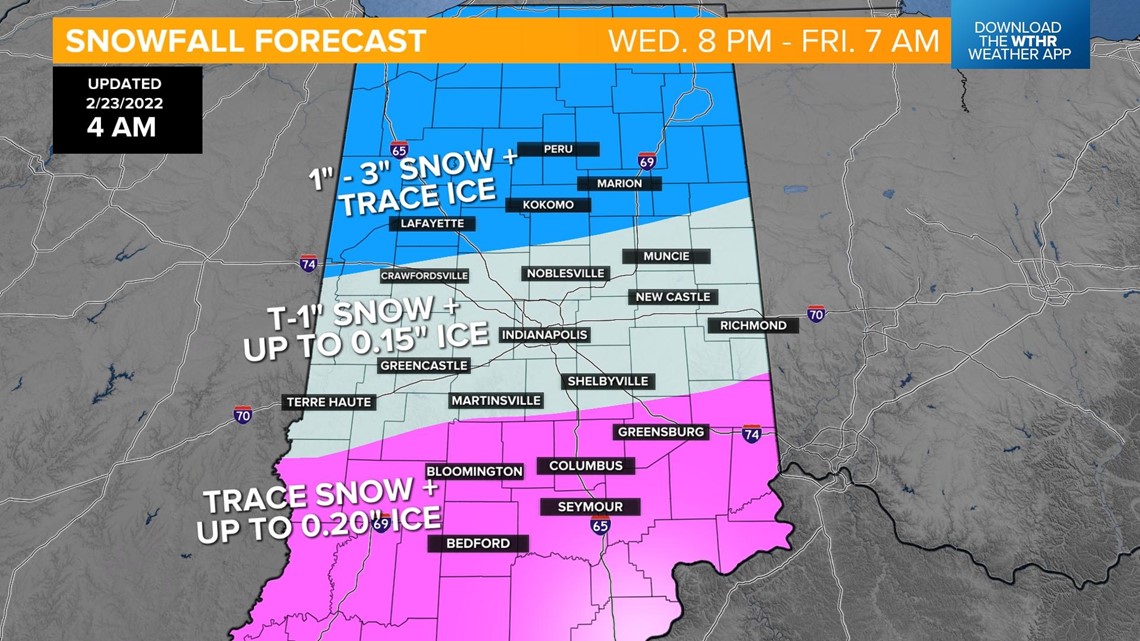 The first wave will arrive on Wednesday evening, with the second likely to have a significant impact on Thursday evening trips.
INDIANAPOLIS – Much colder air has arrived, with many places up to 25 degrees colder than this time yesterday. Highs will only be in the mid 30's today under mostly to partly cloudy skies.
The colder air mass remains in place as our next storm system moves on. This system comes in two waves, with the first beginning tonight (mostly after 7 p.m.), bringing a combination of snow along and north of I-70, with a mix of freezing rain downstate.
This comes out at dawn on Thursday, causing slippery roads for the Thursday morning drive.
The second wave arrives after lunchtime Thursday. With temperatures near freezing, central Indiana is seeing a combination of rain and freezing rain in the south, freezing rain and sleet in the center, and likely snow in the north.
Temperatures will range from the 20s in northern Indiana to just above freezing in the southern part of the state, but it's a combination of surface temperatures and what happens just above- above the surface that determines our type of precipitation.
While temperatures appear to be just below zero on Thursday afternoon along the I-70 corridor, a slightly warmer air mass just above the surface will give us a freezing rain pattern. It will also have a big impact on the amount of precipitation we receive.
The combination of this winter mix continues throughout the Thursday evening drive, making travel difficult.
This system will end early Friday morning, but leave behind some dangerous travel during the morning rush.
Northern Indiana can expect 1 to 3 inches, with up to 1 inch of snow and up to 0.15 inches of ice accumulation along and either side of the I-70 corridor, including the Indy subway. Little to no snow is forecast for the south, but up to 0.2 inches of ice due to the mix of freezing rain and ice pellets will be possible.