Weather blog: The hottest day since 2012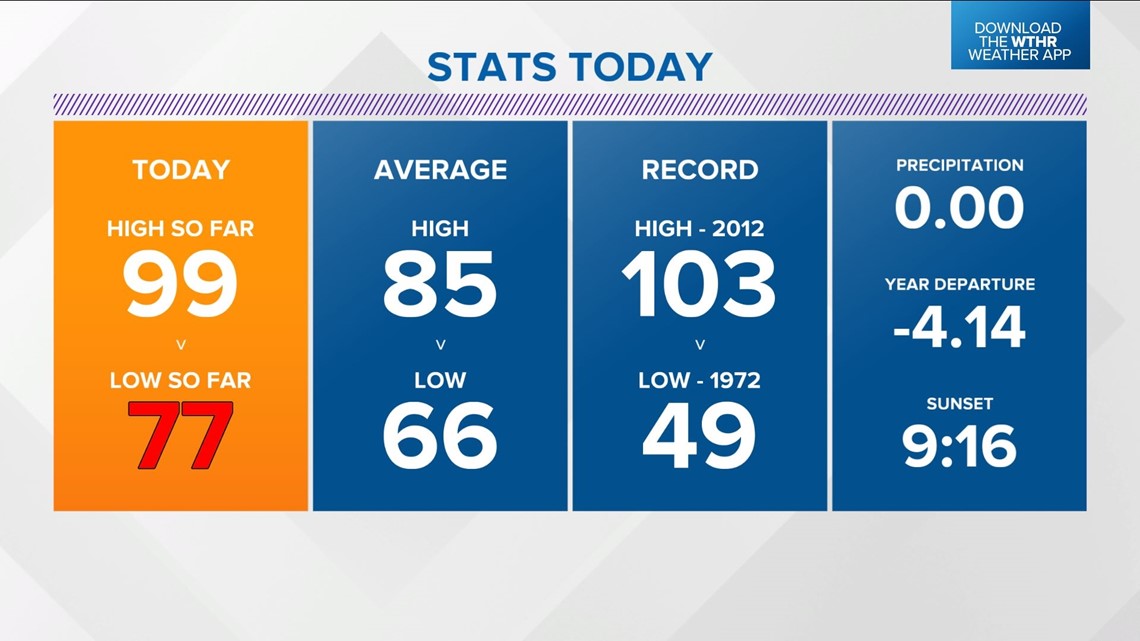 INDIANAPOLIS – Welcome to Indy's hottest day in nearly 10 years with high temperatures in the upper 90s and heat indices between 105° and 110°.
Indy is 99° for a high so far today. This is the hottest since July 25, 2012, which is the last day over 100° in Indy during one of our hottest summers on record that produced NINE days over 100°.
The low in Indy so far today is 77°, and that would set a new daily hot minimum temperature record for the date if it holds.
A northwest to southeast trending outflow boundary will continue to trigger strong storms locally. The very humid atmosphere is suited to produce heavy rain, as noted by the 3″-6″ of rain that hit northeast Indiana in a storm complex earlier this morning.
You will need to be aware of the weather this week with the likelihood of several more severe storm complexes, in addition to afternoon "pop-ups", crossing the state. These clusters pose a threat of frequent lightning strikes between clouds and the ground, inundated rain rates, and strong gusty winds. The exact timing and trajectory are yet to be determined, but central Indiana is at risk of severe weather today through Thursday.
The damp heat persisted all week with no drop in the humidity meter until Saturday afternoon. We revolve around Sunday as the "pick of the week" with lows in the 50s and comfy highs in the 80s.