Weather blog: Dangerous heat easing tonight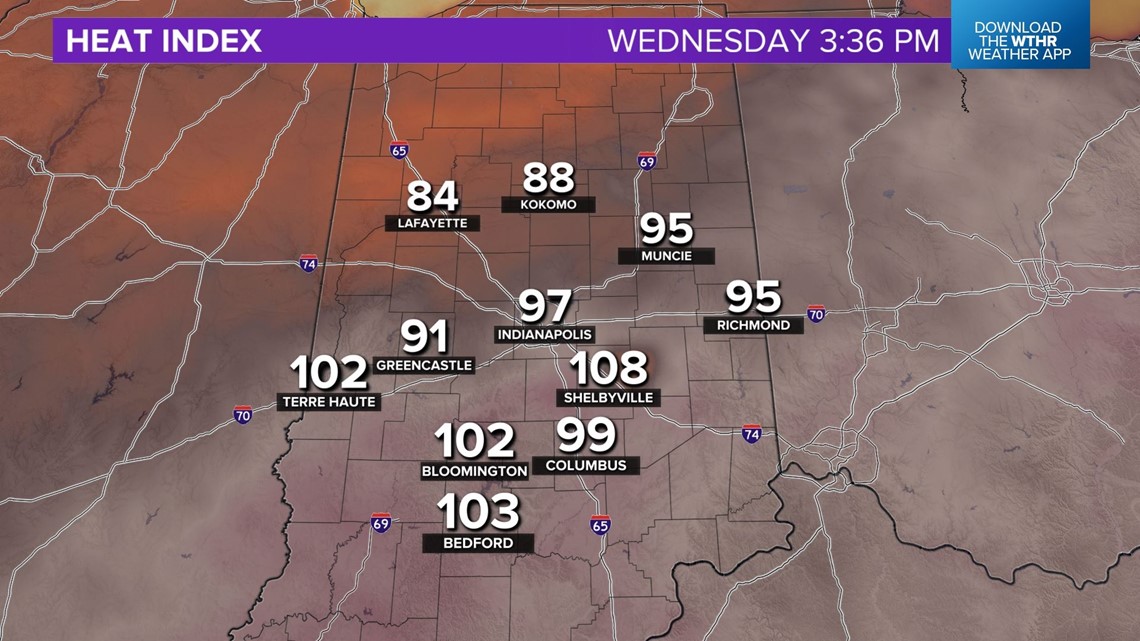 Dangerous heat indices of 100°+ south of I-70 give way to refreshing air this evening.
INDIANAPOLIS — As expected, the day was miserably hot and humid, especially for areas along and south of I-70, where oppressive 70s dew points feel like 100-105 ° at this time.
This was an area we circled for the greatest storm potential today that continues to occur with explosive storm development along a wind shift axis. Some storms have triggered severe thunderstorm warnings for radar-indicated large hail. These are "pulse thunderstorms" and will continue to rise and fall on their way out of state around 6-7 p.m.
Much drier air has already arrived north of Indy and the humid meter becomes comfortable north to south in the coming hours as a refreshing north-northwesterly breeze sets in. However, expect a hot afternoon no matter around Indy with highs in the 90s.
Overnight lows fall into the lower 60s and with dew points in the lower 40s/50s you can give the air conditioning another break on Thursday – at least in the early part of the day. Afternoon highs will be seasonally warm but will feel so much better thanks to the much drier air which will have dew points 20-30° lower than today.
Friday morning will be even cooler as lows drop into the 50s for many areas away from Indy's urban heat island. Friday remains seasonally sunny and warm with highs in the 80s.
We expect another push of miserably humid air this weekend, although there are some differences on when the 70°+ air arrives. At this time, we expect Saturday highs in the 90-92° range, but the heaviest air may not reach until Saturday evening through Sunday. Either way, heavy air on Sunday appears to be brief with a cool front moving quickly delivering another wave of pleasantly dry air early next week with lows in the 50s and highs near 80° Monday/Tuesday.