Value calculation error – JoeBucsFan.com – Tampa Bay Bucs Blog, Buccaneers News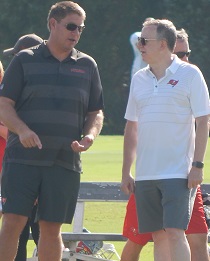 Value calculation error
April 20, 2022
The Buccaneers' more troubling story was shared yesterday on a conference call with Joe and various national media outlets.
Joe almost cried.
It was the pre-draft conference call featuring SiriusXM NFL Radio draft guru, former Bucs rock star general manager Mark Dominik.
The first groin kick was Dominik talking about not drafting Rob Gronkowski in 2010. Dominik has told versions of this story before, but yesterday he revealed that misguided reliance on medical reports claiming the back de Gronk was a huge red flag/problem is what caused Dominik to draft Brian Price at No. 35 overall and Arrelious Benn at No. 39 that year.
Gronk went to No. 42 at the Patriots.
Then there was the agonizing first-round decision of 2011 and the trade hope that missed the mark. Joe shared this yesterday.
And Dominik also shared what he called "my best worst story."
In 2011, "Bill Polian calls me and proposes the fourth [round pick] for this year's fifth-round pick, Dominik started.
Dominik passed on the deal because he didn't think there was enough value to grab the Colts' fourth round in 2012 because the Colts were so good with Peyton Manning.
The story, Dominik reminded everyone, shows Manning got hurt and the Colts finished 2-14. Dominik therefore passed on the No. 97 overall pick for a pick that turned defensive back Ahmad Black to No. 151 overall.
With the pick Dominik not taking from the Colts, he could have picked running back Lamar Miller to complement Doug Martin, or punish running blocking center Ben Jones or Kirk Cousins, or linebacker Nigel Bradham. All of these guys went into the lead on the fourth lap.
Joe is still puzzled by backstage draft moves that didn't happen. Joe suspects current Bucs general manager Jason Licht will also be spitting his tales of doom and ecstasy in about 10 years.