UWW U20 World Championships Live Blog – Day 2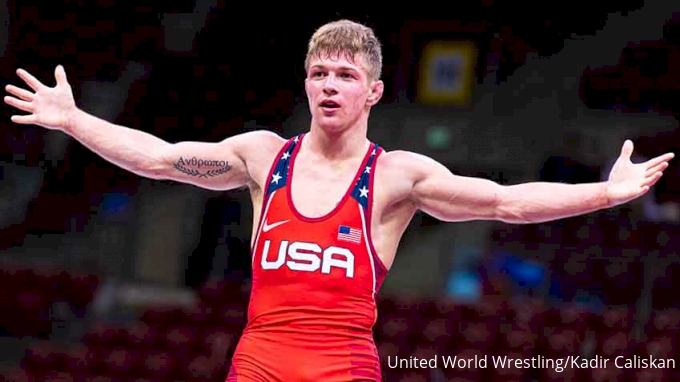 USA have a big session on day two of action at the U20 World Championships in Sofia, Bulgaria. Three Americans are vying for gold and one for bronze. That's on top of two semi-final matches before that. Catch up on all the action starting at 9:45 a.m. EST.
86 kg: SEMI-FINALS: Bennett Berge (USA) against Ismail Kucuksolak (Turkey), 9-7
First period: Berge is put on the activity clock with 1:40 to go in the period and Kucuksolak scores the first point as the clock ticks down. Kucuksolak goes feet to back to collect four more points late in the period to take a 5-0 lead at the break.
Second period: Berge pushes the pace and lands a breakout point with 2:34 to go. Kucuksolak tries to fake an injury but the referee doesn't have it. Berge scores another breakout at 2:08 but this time Kukuksolak pleads his case again and the Turkish corner brings out the cold spray. Berge scores his third out at 1:42 followed by his fourth at 1:33. Berge lands a fifth out at 1:24 as his Turkish foe slowly returns to the center. Berge blocks a shot for his first takedown and first lead with 58 seconds left. Berge fires a header to the inside singles, launches into a scramble, then scores the out for a 9-5 lead with 19 seconds left. Kuckuksolak scores a late out but it's not enough. Berge wins 9-7 over an exhausted Kucuksolak and earns a spot in the gold medal final.
125 kg: SEMI-FINALS: Amirreza Masoumi Valadi (Iran) against Nick Feldman (USA), 11-1
First period: Valadi pushes Feldman out of bounds twice in 38 seconds to take a 2-0 lead. Valadi grabs another point gap to take a 3-0 lead. Another out and a warning and a gave Valadi a 5-0 lead with one minute left in the period. Another outing and caution and it's 7-0. Feldman trails 7-0 at the break.
Second period: Feldman rushes on a shot but it is blocked out of bounds by Valadi. Feldman falls behind 9-0 after the withdrawal. Feldman earns his first point on an outing with 2:27 to go. Valadi ends it with a driving single to a double for 11-1 tech with 2:04 to go. Feldman will fight for bronze tomorrow.
57kg: GOLD MEDAL MATCH: Jore Volk (USA) vs. Merey Bazarbayev (Kazakhstan), 3-2
First period: Volk scores on a step after hitting a go-behind to take a 1-0 lead 20 seconds into the game. Volk lands an out after an inside header for a 3-0 lead with a minute left in the period. Volk leads 3-0 at the break.
Second period: Volk is put on the activity clock and gives up his first point with 1:45 to go. A warning and one against Volk gave Bazarbayev his second point. Volk runs around the mat for the final seconds and earns a 3-2 victory and a U20 world gold medal.
65kg: BRONZE MEDAL MATCH: Yoshinosuke Aoyagi (Japan) vs. Vince Cornella (USA), 6-6
First period: Cornella clinches the first point with an activity timer violation then scores two exposure points for a 3-0 lead with 26 seconds left in the period.
Second period: Aoyagi scores a takedown after a long rush on a Cornella shot. It's 3-2 Cornella with 2:05 to go. Aoyagi lands a second out midway through the period to take a 4-3 lead with 1:12 to go. Cornella scores a single with 20 seconds left for an apparent victory, but a challenge is called for by Japan. Japan wins the challenge when it is determined that it was two for Cornella, two for Aoyagi, and one for Cornella. Aoyagi wins the bronze medal match 6-6 on criteria.
70kg: GOLD MEDAL MATCH: Kanan Heybatov (Azerbaijan) vs. Mitchell Mesenbrink (USA), 13-7
First period: Mesenbrink on a single header inside from the whistle but Heybatov blocks for four followed by a two-point turn. Messenbrink scores a backhand and loses 6-1 less than a minute into the game. Mesenbrink scores an out on a single with 35 seconds left to cut the lead to 6-2. Heybatov scores on one out ever at the end of the period and takes a 7-2 lead into the break.
Second period: Mesenbrink uses relentless pace to score an early-half exit. Heybatov scores two runs on an exhibition or a single and leads 9-3 but Mesenbrink hits back seconds later with an out to cut the lead to 9-5 with 1:50 to go. Mesenbrink is in full attack mode and scores a step with 1:31 to go to cut the lead to 9-6. Heybatov scores an out or a run for an 11-6 lead with 42 seconds left. Mesenbrink fought back with one out at 29 seconds to cut the lead to 11-7 but Heybatov came back with one out for a 13-7 win and the gold medal.
97kg: GOLD MEDAL MATCH: Ben Kueter (USA) FALL Rifat Gidak (Turkey), 1:40
First period: A header from Gidak puts him on the board first, but Kueter counters with two on an exhibition to take a 2-2 lead on the criteria. Three straight guts followed by an armbar ends 1:40 into the game. Ben Kueter is your U20 world champion in the fall.