Tristan Wirfs #7 – JoeBucsFan.com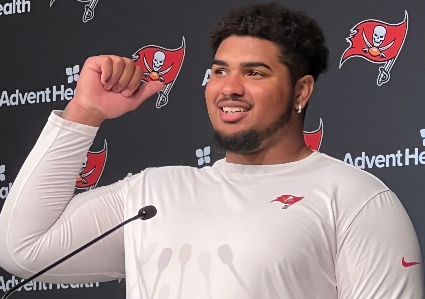 Tristan Wirfs #7
June 4, 2022
In his list of the NFL's Top 25 Players 25 and Under, CBS Sports' Cody Benjamin had just two Bucs.
Yesterday, Joe noted the highlight of Devin White's Benjamin. Now Joe reveals Tristan Wirfs at #7.
Buccaneers OT Tristan Wirfs (23)

Redesign the 2020 class, and Wirfs probably doesn't make the top five. Sure, he occupies the right side rather than the coveted blind side, but few men have had a more direct hand in Tom Brady's resurgence in Tampa Bay. A top title-winning pass blocker on the rise, he's exactly the type of lineman you plug into your roster and expects 10+ years of Pro Bowl protection.
Joe was talking with someone the other night and made the following bold take after a few beers: AC/DC-loving Bucs general manager Jason Licht, if the following players stay healthy, may have drafted two Hall ofFamers.
The first is Mike Evans. The second? Wirfs.
It's now way, way, way early to start ordering a bust of Wirfs for Canton. But this guy is incredibly good. Entering only his third year, Wirfs has already made the All-Pro team once. It's impressive.
If Wirfs can stay healthy – keep an eye out for his ankle injury which he opted out of having surgery – the sky's the limit.