Top 10 things to do in Mazatlan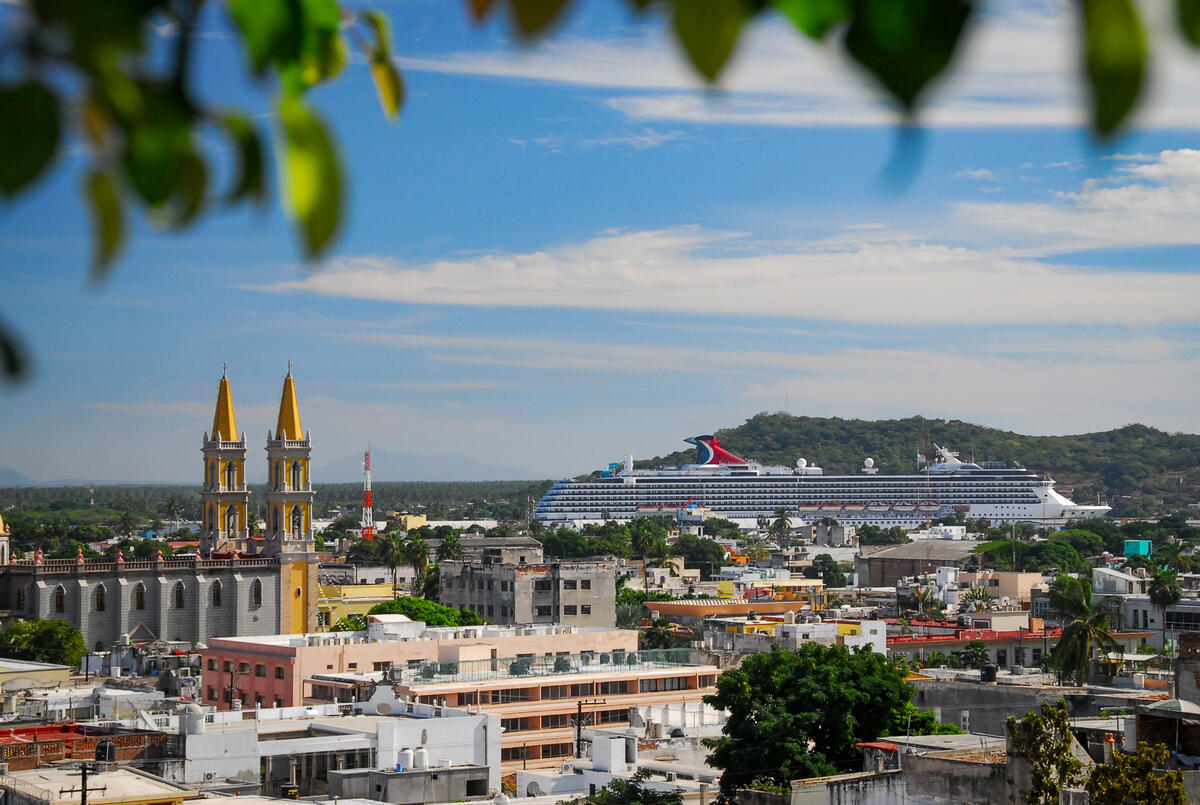 Located on the Sea of ​​Cortez, Mazatlan is a popular cruise stop on many cruises to the Mexican Riviera. The Spaniards settled in the area in 1531, leaving a strong imprint on the regional cuisine, culture and architecture.
Well known for the city's iconic cliff divers, it is described as a colonial beach town. Nicknamed the Pearl of the Pacific, with a warm climate all year round, it benefits from a semi-arid climate which makes it ideal for outdoor activities.
There are a wide variety of interesting activities and excursions for cruise passengers who want to spend their day, whatever their budget.
Here's a rundown of the top 10 things to do in Mazatlan.
Overview of Mazatlan
Cruise ships visiting Mazatlán dock at the commercial port, where free shuttles take passengers to the cruise ship terminal. Outside there are plenty of taxis and it takes about 1.5 km to get to the historic part of town, known as the Centro Historico district.
A unique option for transportation in Mazatlan are "pulmonias," small vehicles that look like stretched golf carts; a great way to get around. Please note that some sellers display prices in Mexican dollars; however, this usually refers to the price in pesos, which can be confusing. Using cash instead of credit cards can get you a better price, and some stores charge extra for using your credit card.
Tourist information often refers to the Golden Zone, the western part of the city along the coast. It is a popular tourist area which has a beautiful sandy beach, many restaurants, bars and shops.
Hiking El Faro
Among the most popular things to do in Mazatlan is the El Faro hike. One of the tallest lighthouses in the Americas, it sits 515 feet above sea level, offering some of the best views in the city. Built in 1879 to guide sailors, it is still used today.
A newly constructed cantilevered glass structure gives guests the option of an even better view as they walk along the glass floor, stretching up the side of the mountain.
Not far from the port area, cruise passengers can walk or take a taxi to El Faro. Admission to the park is free; however, they accept donations for the conservation and maintenance of the park. It's a good 30-minute hike to the top, and guests are encouraged to dress appropriately for the climb and bring water.
Take a walk on the Malecon
It seems like it's popping up as a must-do activity in most Mexican Riviera ports of call, but there's a good reason why. Taking a leisurely stroll along a seaside promenade is a great way to soak up the culture of the region. Not to mention an easy and economical excursion.
Mazatlán's Malecon is 21 km long, with many beach accesses, as well as excellent restaurants, bars and shops. There are plenty of artworks and statues, like the famous Fisherman's Monument and the colorful Mazatlan Sign, which are great places to take photos.
A unique feature along the Malecon is Carpa Olivera, a free saltwater pool located in the ocean at the northern end of Olas Atlas Beach. Then, to cap off your day, take a few minutes to watch Mazatlan's famous cliff divers, which usually start around noon and continue throughout the afternoon.
Visit the historic center
The heart of the city is the Centro Historico (Old Mazatlan) which is full of national historic buildings from the early 19th century. With its commercial success as a port, this famous region is full of places to discover. There's even an option to take a segway ride, a fun way to travel and cover a lot of ground.
Another highlight is Mazatlan Cathedral, formerly called the Cathedral Basilica of the Immaculate Conception. Built in 1865, the cathedral features incredibly rich decor and Moorish, Gothic and Baroque influences.
In addition to churches, the region has more than 500 buildings designated as historical monuments. This part of town is a hub for artists and is a great place to buy local produce. There are also many cultural events such as flamenco dancers and musical performances.
learn to surf
Whether you are a beginner or experienced, Mazatlan is known as one of the best surf spots in Mexico. Summer can see some of the biggest waves, but the surf is good all year round.
Centrally located, Playa Bruja, is a popular spot, along with Playa Olas Atlas and Playa Los Pinos. with plenty of places to hire boards or take a lesson for the day.
There are many reputable companies offering shore excursions, and many will pick you up directly from the dock. Some even have a "no port, no pay" policy, which means that if your ship can't dock for some reason, you don't need to pay for the activity.
Explore the Aquarium
For families who want to do a little different from a typical beach day, the Aquarium is a fun and affordable option, with an admission price of US$7.30 for adults and US$5.30 for the children. As the only aquarium on the Pacific coast of Mexico, it's not something you can do in other ports.
Open every day of the week, the aquarium is home to 250 species of fish, sea lions, stingrays and bioluminescent jellyfish. There are several live shows each day, including a diving show.
They also have lots of birds, including colorful parrots, as well as flamingos, crocodiles, frogs, and sharks. Kids can get familiar with touch tanks, always a crowd pleaser. There is a souvenir shop, a small café and an adjoining botanical garden.
Take a day trip to the villages of the Sierra Madre
For a relaxing outing, a day trip to the villages of the Sierra Madre allows cruisers to experience the slower pace of the countryside, visiting quaint towns within an hour of Mazatlan. There are many options from cruise lines as well as local tour operators for half or full day excursions.
This region has some of the earliest colonial settlements, with a strong legacy from the gold and silver mining eras. Many tours stop in Copala, a ghost town that fell into disrepair after its silver mining operation closed.
Travelers have loved this part of the region, which is a step back in time and offers a unique experience to see local artisans and learn about the history and culture of the region. Visit charming old churches, learn about an authentic bread-making process or how to make tiles and pottery.
Visit Ile aux Cerfs
Sailing to this uninhabited island, known as Venados in Spanish, visitors are treated to a spectacular setting not far from the beaches of the Golden Zone. It is the largest of the coastal islands in the region and has been designated a UNESCO World Heritage Site.
As part of the Mazatlan Islands Ecological Reserve, it has no commercial development. Visitors can explore, kayak, snorkel, and see some of the local tropical fish and sea lions. You can enjoy a beachside barbecue on the sandy beaches, ideal for relaxing or swimming. There are even banana boat rides for family fun. Rugged in parts, it's also ideal for hiking and exploring the island.
Go on a gastronomic tour
Mazatlan is known for its cuisine and seafood. With a large fishing fleet, restaurants and markets have the freshest produce.
Traditional dishes include shrimp aguachile, tostadas topped with fresh tuna, octopus, and Sinaloan-style ceviche. They even have their own take on seafood-inspired sushi.
There are many local restaurants to try, as well as amazing street food. Exploring on your own, or even a guided walking tour of the Mercado (market) is a great way to try these timeless, off-the-beaten-path gems. Beyond seafood, these markets are known for other staples such as fresh fruits and vegetables, dried chilies, Mexican cheese, and ice cream, to name a few.
Taste some mezcal
Mexico is famous for tequila, but mezcal is also a coveted spirit. Although both are made from agave, tequila is a specific type of mezcal. During fermentation, tequila is steamed, while to make mezcal, agave is roasted in earthenware pots, which is why many notice the smoky flavor of mezcal.
The production of mezcal in serious business in Mexico and Sinaloa has obtained the prestigious designation for its product, granted by the Mexican Institute of Industrial Property, a much sought-after accreditation.
Popular excursions include a visit to some of the local distilleries, where agave plants are grown. See how it is turned into the final product, learning about the history and culture of this important export.
Go deep sea fishing
A popular activity in Mazatlan is deep sea fishing, which is unsurprising given its location and the great weather throughout the year. The marina is ideally located for easy access for those wishing to fish for the day when visiting.
Fish like marlin or sailfish are popular catches, along with swordfish, tuna, mahi-mahi and sea bass. Many charter companies catch and release for customers interested in this option.
Guests over the age of 16 require a fishing license, which can be easily provided by the charter operator.