SDCC '22: Marvel Studios Panel Live Blog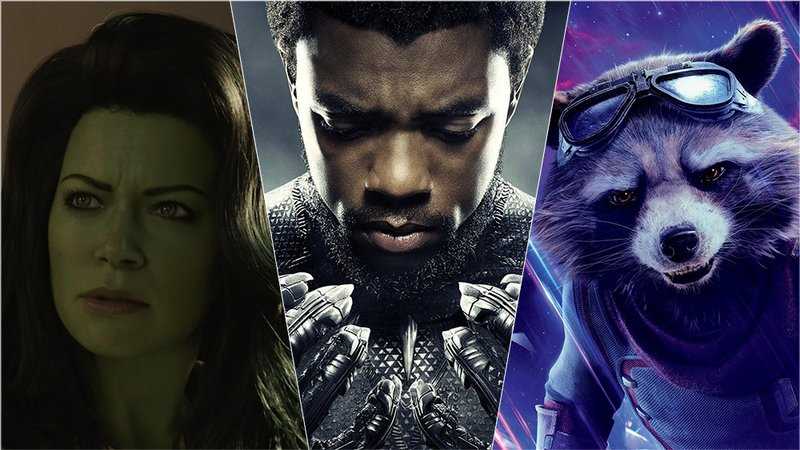 It's show time! After three long years, Kevin Feige and Marvel Studios are back in Hall H to preview the rest of their 2022 slate and possibly reveal what's to come for the MCU in 2023 and beyond!
Cue the marching band!
For the first time since 2019, Marvel Studios returned to the Hall H stage to close out SDCC Saturday with a sure to be epic presentation as they drop never-before-seen footage and share information about the next phase of the Marvel Cinematic Universe.
Unlike nearly every other panel we've seen this weekend, Marvel Studios is understandably vague with their description of Comic-Con, only teasing, "Marvel Studios President and Producer Kevin Feige and special guests provide insight into the ever-expanding Marvel Cinematic Universe."
As for what we're likely to see tonight, the official trailer for Black Panther: Wakanda Forever set to make its grand debut, with an extended taste of She-Hulk: Lawyer. Based on their past showings, it's likely that both of these trailers will launch online simultaneously with their SDCC premieres, if not after the panel ends.
After that, it's hard to predict what Feige has in store for us, but there's a good chance they'll share some Hall H-exclusive imagery or concept art for Ant-Man and the Wasp: Quantumania and or Guardians of the Galaxy Vol. 3perhaps even Wonders.
Disney+ Day is set for September 8, so expect more info on Disney+ Marvel Studios shows as well as new announcements, but we wouldn't necessarily be surprised if they tease Secret Invasion, Stone heart, EchoWhere Loki season 2 tonight.
Marvel Studios will also be presenting at The D23 Expo on September 10, and there have been plenty of rumors that they'll have a much more substantial presentation then, but tonight should still be pretty fun. There's also been a lot of buzz over the past twenty-four hours about Marvel's potentially huge future plans – which we can't talk about yet – but stay tuned in case Feige has another surprise in store for us before the release. night. more…
Follow the LIVE blog below and be sure to leave your comments in the usual space! (If it doesn't show up, make sure you enable cookies or disable AdBlock)
---
---
The next lineup for 2022 and beyond from Marvel Studios:
I am Groot (August 10, 2022)
She-Hulk: Lawyer (August 17, 2022)
Untitled night werewolf Halloween Special (October 2022)
Black Panther: Wakanda Forever (November 11, 2022)
Guardians of the Galaxy Holiday Special (December 2022)
Ant-Man and the Wasp: Quantumania (February 17, 2023)
Guardians of the Galaxy Vol. 3 (May 5, 2023)
Wonders (July 28, 2023)
Secret Invasion (to be determined 2023)
Stone heart (to be determined 2023)
Echo (to be determined 2023)
Loki season two (TBD 2023)
What if…? season two (TBD 2023)
X-Men '97 (to be determined 2023)
Marvel Zombies (to be determined)
Spider-Man: Year One (to be determined)
Armor Wars (to be determined)
Untitled Wakanda Series (to be determined)
Agatha: House Harkness (to be determined)
daredevil (to be determined)
Nova (to be determined)
amazing man (to be determined)
The Fantastic Four (to be determined)
Blade (to be determined)
Dead Pool 3 (to be determined)
Captain America 4 (to be determined)
Shang Chi 2 (to be determined)
Love at first sight (to be determined)
X-Men/The Mutants (to be determined)