Report: Bucs 'involved' with Kyle Rudolph – JoeBucsFan.com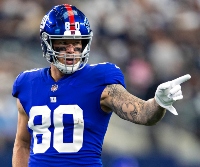 UPDATE 6:44 p.m.. – It makes total sense in the world.
Joe was adamant that Bucs AC/DC-loving general manager Jason Licht, in what is likely Tom Brady's final season, would be highly unlikely to go to war in a Super Bowl season or bust with a single tight end that has already caught a pass in the NFL.
(No, Joe isn't counting the Codey McElroy camp meat.)
Well, in the wake of Rob Growkowski's foot rub reaffirming his retirement, Licht can't hold his own. According to BSPN insider Jeremy Fowler, Licht spoke to tight end Kyle Rudolph.
Again, this makes too much sense. You know Brady wants another veteran to accompany Cam Brate.
Hey, Cade Otton is a great story and could one day be a great tight end. Maybe this year. But guess how many passes Brady threw at Otton during an organized practice?
Same number of passes Brady targeted for Joe.
Rudolph, 32, caught 26 passes for 257 yards and two touchdowns last season in 16 games for the miserable Giants. It was his first team after a solid 10-year career with the Vikings, including Pro Bowl seasons in 2012 and 2017.
Is Rudolph washed? It's not clear. But Bucs fans might remember when former Pro Bowl tight end Dallas Clark played his career in Tampa in 2012. He caught 31 balls for 343 yards and three touchdowns.
Those aren't Gronk's numbers, but the Bucs might be fine with Rudolph's if the other guns are buzzing.
Tom Brady is no stranger to new tight ends. In 2014, Brady won a Super Bowl with Bucs rejection Tim Wright, who had six touchdowns – 6! – from Brady during this regular season.
Free agent tight end Kyle Rudolph is attracting interest from several teams ahead of training camp. The #Bucs were involved, I am told, and a meeting with the #Vikings is not on the table. This situation should crystallize some time before the opening of the camps.

— Jeremy Fowler (@JFowlerESPN) July 14, 2022