Places to Visit in Ketchikan, Alaska | Royal Caribbean Blog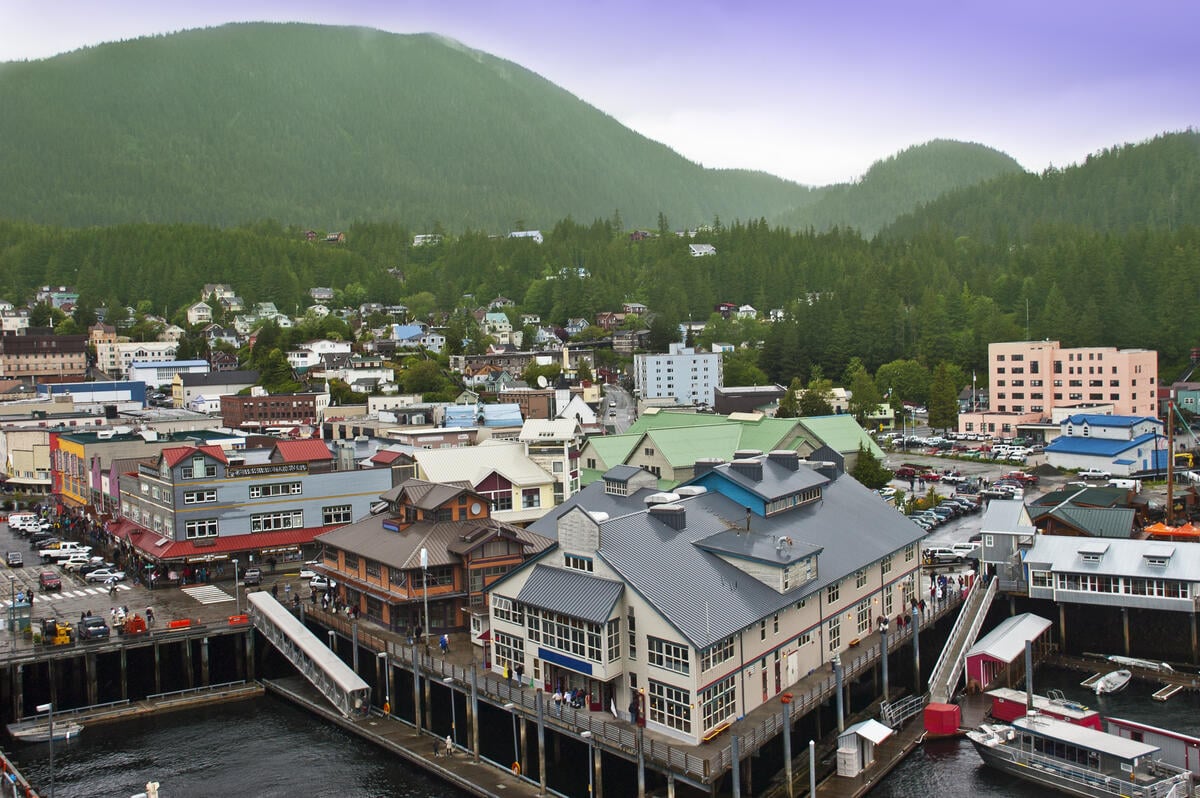 A cruise along Southeast Alaska's Inside Passage isn't complete without a stop in Ketchikan, Alaska. Perched against the backdrop of rugged Alaska, Ketchikan Harbor is deep enough for cruise ships to dock right downtown, making disembarking and exploring this gem of a city easy and accessible.
Mollie Breese is a local Alaskan resident who has spent many summers exploring the Alaskan wilderness. Currently residing on Kodiak Island, she spends her weekends exploring new trails, remote villages, and her next favorite local brewery. She has traveled extensively in Southeast Alaska, the Aleutian Islands, and along the Central Alaska Highway System.
Downtown Ketchikan looks like the front of a postcard with its brightly colored homes nestled comfortably along the boardwalks. This city is the "Gateway to Southeast Alaska" and the self-proclaimed Salmon Capital of the World. While there's plenty to explore in the city center, cruise ship passengers can also enjoy the endless wilderness of the Tongass National Forest, just beyond the city limits.
A visitor could spend weeks exploring all that Ketchikan has to offer. Unfortunately, Alaska is a big place and there's a lot more to see throughout your trip. Many cruise ship passengers may only have a day to explore this historic port of call.
So we've worked hard and provided a list of the best things to do for a day in beautiful Ketchikan, Alaska. This list steers clear of overcrowded or hyped stops, focusing on experiences that encompass the beauty, serenity, and adventure that Ketchikan offers. While some of these attractions may appear on other travel sites, we've gone the extra step to give you a local perspective on visiting this island on your Alaska cruise.
Walk along Creek Street
Located just off Main Street, Creek Street is one of the most photographed spots in Southeast Alaska. Winding along a cascading creek (hence its name), the Creek Street boardwalk is a favorite with tourists and locals alike. Formerly the red light district, this promenade is now home to colorful houses, historic totems, local art and tourist shops, cafes, restaurants and the Dolly's House museum. These attractions make it one of the best places to shop in town. If you're looking for a gift for those at home, check out the Fish Creek Company. This is a great stop for original Alaskan souvenirs and quality goods.
Starting in May, Creek Street is also one of the best places to watch the salmon run, with various species of salmon soaring through the crystal clear water as they make their way to their spawning grounds. This race attracts an array of eagles, otters and seals. Visitors can look over the boardwalk railings to see an actual display of Alaskan wilderness.
Although the Creek Street boardwalk is level and easy to walk on, if you're looking for a more intense experience, climb the Married Man's Trail at the end of Creek Street. This extension was rumored to be the hidden path that married men took when trying to "discreetly" visit the brothels along the promenade. Today, the path is a wooden staircase that stretches up Park Avenue, where walkers can get a higher view of the city.
If you do this extra leg of the trip, be sure to check out the salmon ladder at the end of the married man trail. At this point in the creek, the water turns into a rushing waterfall and you can watch the salmon attempt to jump over the waterfall as they continue upstream.
Depending on your shopping and hiking, plan to spend 1-2 hours exploring the Creek Street area.
Visit the Tongass Historical Museum
The Tongass Historical Museum is one of the best exhibits of Alaskan Native history in Southeast Alaska. Located off Creek Street, this stop can be combined with the walk to fill an entire morning.
The Tongass Historical Museum is in partnership with the Totem Heritage Center. Both museums offer a captivating educational experience. However, the Tongass Historical Museum is more central in the city center, making it easier to visit when time is limited. While a quick tour might last around 20 minutes, if you take your time to appreciate each exhibit, visitors can easily spend an hour learning here.
The exhibits cover the long and fascinating history of the people of Revillagigedo Island (where Ketichand is located). Visitors can learn about Tlingit history and culture, as well as the city's evolution from a fishing port to Alaska's sixth-largest city. Be sure to check their homepage for current exhibits and special events!
After your tour, head west on Dock Street to 55North Bakery, one of the best places to grab a coffee and a delicious sweet pastry!
Go hiking in a rainforest
Ketchikan sits in the heart of the Tongass National Forest, the largest national forest in the United States. This temperate rainforest is teeming with lush ferns, rare flora and towering trees. For any lover of the Pacific Northwest, you'll feel right at home in the acres of moss-covered trails against a backdrop of glacial mountains and bays.
Although cruise ships offer excursions to visit this wilderness, visitors can also access trails directly from downtown. Just off 3rd Avenue is the Rainbird hiking trail. This 2 mile trail is a popular hiking trail with visitors and offers stunning views of the creek and town. The trail is rated as moderate on AllTrails, with an elevation gain of 541 feet. While the rocks and roots can make the trail difficult to navigate, the views and scenery make hikers feel like they're deep in the Tongass Forest.
Keep an eye out for local wildlife, including black bears, eagles, foxes, and stoats, as they can be frequent visitors along this trail and on the outskirts of town.
Catch a fishing charter to fill your freezer
Ketchikan is known as the salmon capital of the world, and it's a well-deserved title with the masses of salmon flooding in from mid-May through September. However, Ketchikan is home to more than salmon. Pacific halibut, yelloweye rockfish and various species of Pacific cod are also common in these waters.
If you're looking to try your hand at fishing in Alaska, booking a fishing charter for your day in Ketchikan is a great opportunity. Although you can rent fishing gear in town to fish along the city creeks, a charter provides all the gear, optional fish packing/shipping, and a knowledgeable captain to get you to the best spots. A fishing charter also offers the added benefit of enjoying the scenic Tongass coastline from the water and getting up close to whales, killer whales and dolphins. If you're trying to decide between fishing or a whale watching cruise, a charter can combine both options. If you want to keep your catch, charters offer packing and shipping the fish for an additional price, allowing you to ship your fish home and enjoy them for months.
There are a wide variety of charters available for booking in Ketchikan. To get one of the best prices, book your charter a few months before your cruise arrival date. With Ketchikan being one of the most popular ports of call in Alaska, top charters can fill up quickly and other charters can increase in price.
Most charters last around 4-6 hours. Plan to bring lots of layers, waterproof clothes/boots, insect repellent, and your camera. For recommendation, Oasis Alaska Charters offers a variety of fishing excursions, including king salmon fishing.
Important Note: You will need to purchase a fishing license (with a salmon stamp, if you plan to fish salmon) prior to your fishing day. You can purchase your license online at the Alaska Department of Fish and Game website. Try to purchase your permit at least one month before your departure date to ensure processing and shipping time. You can also purchase an Alaskan license at any outfitting store, although this will take some time on the water.
Take a scenic ride to Misty Fjords National Monument
Misty Fjords National Monument is no secret to Ketchikan residents. In fact, a quick Google search will show it to be a favorite for most travel sites. But this high status is definitely deserved.
Misty Fjords National Monument combines all that is beautiful about the wilderness of Southeast Alaska. A trip to Misty Fjords guarantees vistas filled with towering peaks, glacial lakes, cliffs, plunging waterfalls and lush rainforests. Unlike some of the passages frequented by cruise ships during your days at sea, smaller cruise ships and kayak tours allow visitors to fully explore these narrow channels of the fjord. In summer, the fjord resounds with the cries of migrating birds, sea lions, seals, whales and soaring eagles.
To visit this area, visitors have a variety of options. You can take a short cruise that travels the passage, usually around 2-3 hours. You can also opt for a private kayak tour that paddles along the shore, with the chance of spotting bears and other wildlife. For a more sophisticated option, seaplane charters also depart daily from Ketchikan, offering priceless views of the Tongass National Forest, Misty Fjords National Monument, and scenic islands stretching to the horizon.
However you choose to spend your day in Ketchikan, Alaska, you are sure to enjoy it. This makes it one of the best stops to enjoy on your big trip to Alaska! Have a good trip!
More information about Alaska