Multimedia/Blogging Training for Jaffna University Students | Print edition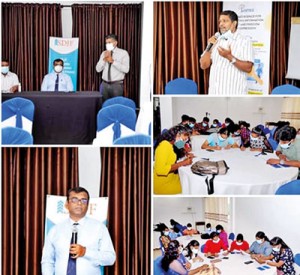 Views) :
On January 22-23, the Sri Lanka Development Journalist Forum (SDJF), in partnership with Helvetas, organized a two-day hands-on workshop on "Multimedia Article/Blogging" for 47 media students from the Jaffna University.
The program was inaugurated by Dean of Faculty of Arts, Jaffna University, Prof. K Suthakar, Head of Department – ​​Media Studies, Dr. S Raguram and SDJF Program Director, Azad Mustaffa. Helvetas program manager Chandula Kumbukage joined the session virtually from Colombo.
The program has been designed to accommodate national and international experts on the specific topic.
On the first day, participants went through the blogging process and were allowed to work in groups. Each group was asked to select the most important issue they wanted to report in their next blog and accordingly the trainer guided them to offer their thoughts and pitch. Mr. Ajith Prekum, a prominent blogger, shared his experience and tips for reaching a wider audience.
Students were introduced to fact-checking, source verification and journalism ethics when writing a multimedia article/blog.
On Day 2, each group had the opportunity to present their story to the trainer and reshape the angle of the story. Each group received resources and individual coaching to write their own blog. Two international trainers from KIIT University of India, Dr. Bindu Das and Dr. Mukherjee joined via zoom and shared their experience on "Capturing Community Issues through Creative Writing".
The entire training program was led by Dr. MC Rasmin, media trainer and consultant for InSPIRE.
All groups have published their stories (blog posts). Rohiny Arunthavaselvam, third year student in the Department of Media Studies, Faculty of Arts, Jaffna University said, "After this training, I know the technical aspects of blogging and writing multimedia articles. Now I am more inclined to do research on social issues in my community. I can use this knowledge to write blogs in the future on social issues that impact my community. »
Participants will produce their own multimedia article for the intercollegiate competition with coaching and mentoring from the SDJF on freedom of expression, digital citizenship, information rights and women in new media.
The activity is part of the Incubator Spaces for Promoting Information Rights and Freedom of Expression (InSPIRE) project funded by the European Union and implemented by Sri Lanka Development Journalist Forum and Helvetas.