Martin Blog (4/12): 76 new top-5s reviewed from last night's track meets | Sports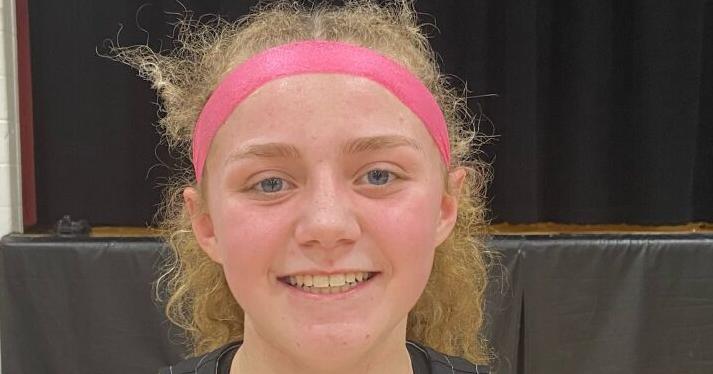 (KMAland) — Woooooeeee! The windshield wiper Mother Nature gave us last week was caught up last night with over 80 events at KMAland.
There haven't been exactly a ton of track encounters, but there are a ton of new top fives. Today's blog is dedicated to those…
GIRLS Athletics
I've updated the KMAland Girls Track & Field leaderboard, and there are 35 new top-fives after last night's track action. Here they are:
100: It all starts here in the 100, where Riverside Veronica Andrusyshyn ran a 12.86 to move up to No. 2 on the list. They were running fast at Treynor, by the way. There are 20 of this meeting.
200: Riverside Izzy Blum (27.10) and Maddie Bergman of Lewis Central (27.13) are ranked 3rd and 4th respectively.
400: Logan Magnolia Courtney Sporrer decided to show his speed in the quarter with a 1:01.84, ranking No. 5 in the region.
800: Big evening in the half mile! of the Atlantic Ava Rush (2:24.09), Audubon's Hannah Thygesen (2:27.52), Mayson Hartley by Clarinda (2:29.00) and Courtney Sporrer of Logan-Magnolia (2:32.01) are now our 2-5 in the area. They're all still chasing that 2:22.52 from Harlan's Kaia Bieker.
3:00 p.m.: The four best times in the region fell last night. Courtney Sporrer (5:13.06), Denison-Schleswig Lola Mendlik (5:14.91), Logan-Magnolia madison sporrer (5:15.90) ​​and Clarinda Mayson Hartley (5:17.67) all listed in that order after last night's events. Big up to those who had a chance against the Sporrer and Hartley in the same race.
3000: Madison Sporrer takes first place after posting an 11:20.83 in the Treynor encounter. Clarinda's Hartley is now No. 3 after an 11:31.08, and Audubon's first year Stefi Beisswenger clocked an 11:46.85 to rank No. 5.
100 hurdles: Still at Treynor last night, Clara Teigland continued to push his time lower and lower. She is the first KMAlander to go under 16 seconds this season, posting the best time in the zone (15.96). Riverside's Andrusyshyn is No. 5 with a 16.66 last night.
400 hurdles: Atlantic Chloe Mullenix is gradually approaching this Drake Relays Blue Standard. She went in 1:08.67 to move up to No. 2 in KMAland (behind Abby Hughes of Glenwood, who clocked a Blue Standard time of 1:06.48 over the weekend). Tri-Center Quincey Schneckloth improved his time this season with a 1:10.84 and is No. 4. And get it, Schneckloth went to Treynor after playing a full game of football! That, my friends, is why Quincey's face is at the helm of today's blog. I love bi-athletes. by Treynor Carissa Spanier is also in the top five thanks to his 1:11.42 last night.
4×200: Lewis Central's 4×200-meter relay team clocked 1:51.76 to move up to No. 5 for the season.
4×400: Underwood's foursome ran a 4:18.25 to finish No. 2 while Riverside's 4:19.78 is No. 4.
Shuttle Obstacle Relay: Teigland also helped his shuttle team Treynor win last night with a time of 1:11.01. It is number 2 of KMAland. Wayne posted a 1:12.20 at Creston to clinch No. 3.
800 Medley Relay: A new No. 1 Audubon Group time that posted a time of 1:54.90. Underwood's 1:55.20 is #3 while Riverside's 1:55.22 is #4.
1600 Medley Relay: Riverside's time of 4:32.35 was 2nd while Atlantic was 5th with a time of 4:36.44.
Long jump: Lewis Central Maddie Bergman jumped a little further last night with a 16-05.75. She is No. 4 in KMAland.
Discus: A great day for Wayne's Emily Joneswho finished with a 117-02 draw and is No. 3.
Shot put: Lewis Central Kierra Schmiedling is still No. 5 in the shot put, but she did it with a best throw of 37-06.50.
Pole Vault: County Worth Eva Engel and Stanberry Katlyn James tied for No. 4 with a pole vault of 8-06.00.
Javelin Throw: Platte Valley's Maggie Collins continues to improve his javelin throw and did so last night throwing 110-03 to rank No. 3 at KMAland.
BOYS ATHLETICS
The boys narrowly outplayed the girls last night. There are 41 new top-fives!
100: CAM Lane Spieker finally had a full track encounter, and he took advantage of it. Spieker ran an 11.26 at Lenox and is No. 4 in the straight race.
200: Spieker was even better in the 200, taking a win in 23.07. This is the new No. 2 time at KMAland.
400: A big night for quarter-miles. The top five has been almost completely reset. Mount Ayr Ryce Reynolds continues to fall, posting a 50.23 to maintain its lead in the race. by Kuemper Michael Pottebaum ran a 51.14 (#2), Shenandoah's Alex Razee sprinted to a 52.00 (#4) and Red Oak's Jack Kling is back with a 52.16 (No. 5).
800: Nodaway Valley, Missouri Riley Blay just keep on going. Last night he decided to run the half mile, and he broke the school record and moved up to #1 in KMAland with a time of 2:00.03. Stanberry's Tyler Schwebach was also in that race and had a 2:03.89 to finish No. 4.
110 meters hurdles: The two best times remained, but the next three are new. Johnathan Weaver from Lenox (15.36), from Audubon Gavin Smith (3:40 p.m.) and CAM jack follman (15.49) are now 3-4-5.
300 meter hurdles: Worth County's Jace Cousatte put in a great performance last night, improving his 300 hurdles time to 42.75. He is No. 3 in KMAland.
400 meters hurdles: Again, the two best times remain the same, but the next three are new. by Shenandoah Brody CullinGlenwood's Tyler Boldra and the CAMs jack follman are the next three with times of 58.28, 58.41 and 58.76, respectively, last night.
4×100: There's a new leader in the clubhouse, and it's Underwood, who ran a 44.37 last night. Glenwood's 45.15 is #5.
4×200: Clarinda takes first place with a 1:32.90 in Shenandoah. Treynor was in that heat as well, and they're No. 2 with a 1:33.28.
4×800: Glenwood was also in Shenandoah last night, and their 4×800 foursome ran in 8:49.61 to finish No. 5.
Shuttle obstacle: A new number 1 in the SHR, and it was Lenox, who passed Underwood with his 1:02.63. Glenwood (1:04.22) and Audubon (1:04.24) also ran well last night and are our 3 and 4 respectively.
800 medley: Another strong showing from Shenandoah in this event, who – I believe – broke her school record for the second time this season with a 1:37.19. This is the second time at KMAland.
1600 medley: Underwood took first place with his time of 3:40.63. Glenwood ran a 3:50.36 to place No. 3, and Denison-Schleswig had a 3:51.23 to place No. 5.
High jump: BIG night for high jumpers. by Clarinda isaac jones makes it to the Drake Relays, meeting the Blue Standard (and more) with his 6-08.00 jump at Shenandoah. This is, of course, KMAland's #1 jump this year. Three others went 6-04.00 last night to tie for second place: Matthew Benedict from Sydney, Marshal Knapp of the southwestern valley and jack robert by Stanon.
Long jump: Tadyn Brown de Clarinda also had a great night jumping in Shenandoah. He finished the evening with a best jump of 21-01.75 and is No. 3 in KMAland.
Shot Put: Stanberry's austin colvin just keep going further and further. He managed a 52-05.75 draw and continues to hold No. 1 in the region. by Clarinda Logan Green jumped into the top five at No. 5 with a throw of 50-03.00.
Disc: Shenandoah Tyler Laughlin had a formidable 152-01 slingshot to rank No. 3 in the region. Kuemper Catholic Evan Adams is new to the roster at No. 5 with a 146-03 throw last night at Southeast Valley.
Pole vault: Tony Osburn of Mound City went even higher last night with a jump of 12-00.25 to stay at No. 1. Worth County's Aydan Gladstone matched his own PR this year with an 11-06.00. It is number 2 of KMAland. And finally, Mound City's William Rother jumped in a three-way tie at No. 4 with his jump of 11-00.00.
Throw the javelin: Give up for Alex Rinehart of Worth County, who is still No. 1 in this event, but he extended his lead with a 150-11.25 throw. Northeast Nodaway Dawson Vore is the new No. 5 with a draw of 127-03.75.
That's 76 new top-five times, jumps or throws since last night. Let's see what tonight brings, and it better not be a bunch of storms!
Send your questions, comments and/or concerns to [email protected]