LIVEBLOG: The 2022 Presidential Debate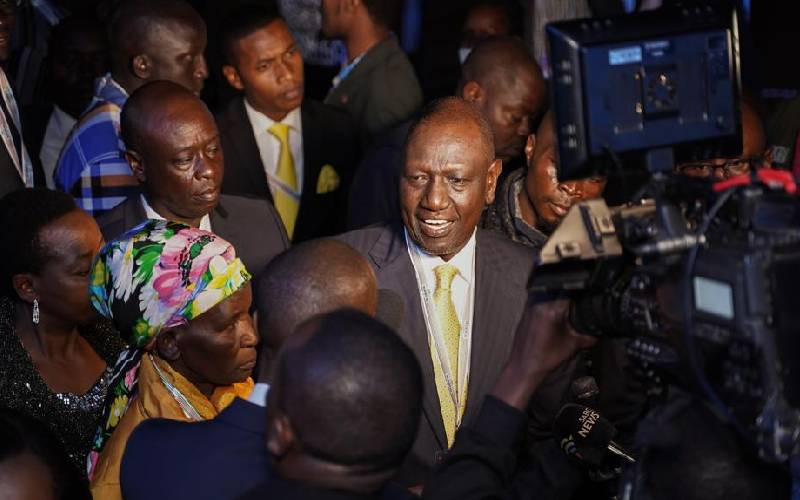 The second installment of the presidential debate was held at the Catholic University of Kenya (CUEA) from 8 p.m.
UDA presidential candidate William Ruto attended the debate while his competitor Raila Odinga of Azimio la Umoja claimed he would not attend the debate while campaigning in Meru County more early Tuesday, July 26.
The first-level debate took place between 5:30 p.m. and 7:00 p.m. David Mwaure of the Agano party debated alone after George Wajackoya of the Roots party failed to make an appearance.
Wajackoya had made it a condition that he would only run if all four candidates debated at the same time.
The standard aims to give you a timely occurrence of the debate.
9:35 p.m.: Ruto's closing statement: Our competitors have run away from this debate in complete disregard of the Kenyan people. They have little respect for the Kenyan people, they think the deep state will make the decision. I want to say to the people of Kenya that they are the ones who will make the decision on August 9th… The Government of Kenya Kwanza will reduce the cost of living, improve health care, guarantee youth employment, water and access to education for our children.
9:32 p.m.: Ruto to win or lose elections; I must publicly declare that I will accept the result of this election. I know the Kenyan people will make a choice. If it's me, I'll prepare to rule the country from day one, if it's not me, I'll accept that my competitor has won. If I have a problem, I will go to court and accept the result of the court.
9:27 p.m.: Ruto on Integrity: Allegations are made, any piece of land I have is legally owned… I think I am probably the politician in Kenya who has been audited from left to right on any issue.
9:23 p.m.: Ruto explains why his competitor, Azimio la Umoja presidential candidate Raila Odinga, did not show up for the debate; My competitor could not come here because he is not the real candidate. It is a project. They are just scapegoats, he dodges difficult questions.
9:07 p.m.: Ruto on influence in the Jubilee government: Of course, I have influence nationally to push the agenda. I did not push the judicial fund as vice-president but as leader. I pushed back the BBI issue and deployed a lot of influence and by the grace of God we managed to block it.
8:58 p.m.: Arror and Kimwarer Dams: The contractor was denied the land to install the dam…I don't believe any money was lost at Kimwarer and Arror and even if it was people should be brought to justice… Kenyans will one day be amazed by what happened in this scandal.
8:55 p.m.: National Security: DP Ruto claims that the withdrawal of the police reserve in the Kerio Valley was intended to punish its supporters.
8:45 p.m.: National Security: There was a false narrative that was deployed that all police reserves in Elgeyo Marawet, Baringo, West Pokot were a militia that William Ruto [Referring to himself] would use at some point and all national police reserves were withdrawn. A very reckless act. With the withdrawal of the reserves, the situation degenerated.
8:40 p.m.: Ruto on the national debt: There are too many projects that are not budgeted. For example, the Uhuru Gardens Museum, you don't see it anywhere in government budgets, but it's under construction. Kenya Kwanza will put pauses on borrowing and projects that are not budgeted… We have the ability to raise additional revenue to manage our debt without having to renegotiate.
8:20 p.m.: Ruto on Galana Kulalu; I agree that questions have been raised about the contract, which is why the contract has been shelved. When these issues were identified, it led to the termination of the contract so that these issues could be resolved. But by the time he got there, the trials had already been done, the pivots had been made, the first crop had been harvested.
8:17 p.m.: Ruto: I tried to support my boss [President Uhuru Kenyatta] but he said he wanted to do things differently. He wanted to bring together a different kind of people to help him bring to life what he wanted to be the legacy of the fourth presidency. Unfortunately, the big four suffered a heavy blow.
8:15 p.m.: Ruto; Food safety on the Big Four agenda has been sabotaged. We were never able to implement this plan, immediately we changed course and the whole big four plan was scrapped, we went on a tangent because of the handshake equation, BBI and the rest is history. We haven't had time to do what we promised the Kenyan people to do.
8:07 p.m.: Ruto on the cost of living; To increase agricultural productivity, you must ensure that farmers have access to inputs, that they have capital and access to markets that are not rigged. Unfortunately, we didn't. As Kenya Kwaanza, we have set up a revolving fund of Ksh 30 billion to ensure farmers have access to inputs, we have added Ksh 12 billion of expenditure for agricultural extension.
8:05 p.m.: Opening statement; I believe I am the candidate with the plan to be able to take Kenyans to the next level.
7:30 p.m. to 8 p.m.: The Vice President is currently in a waiting room being briefed on the rules of the debate.
7:26 p.m.: The presidential candidate of the UDA, William Ruto, is received by Gachagua after his arrival at the CUEA. He is with his wife, children and relatives as well as his political allies. Ruto says he will focus on issues affecting Kenyans during the debate, including the economy, youth jobs, healthcare, cost of living, agriculture and education.
6:50 p.m.: The UDA running mate, Rigathi Gachagua, arrives at CUEA in Karen, and should receive William Ruto.