Live Doppler 13 Weather Blog: Sun to Snow in the Next 72 Hours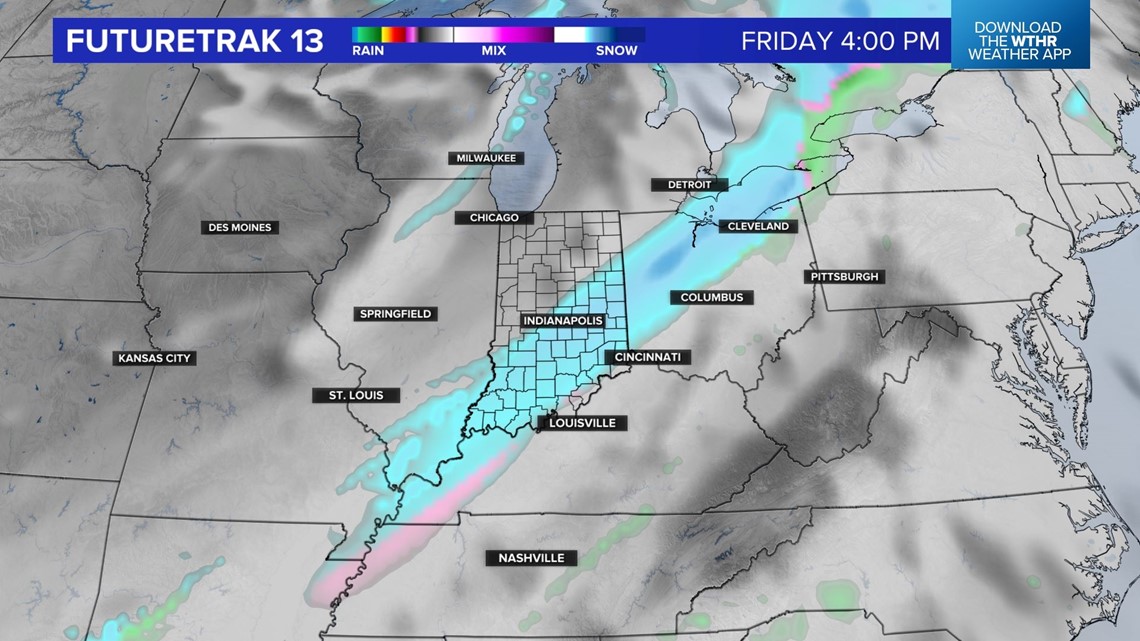 Sunny Wednesday afternoon but eyeing a weather system that appears to be bringing snow to end the week and followed by a bitter start to the weekend.
Lots of weather will occur over the next 72-96 hours with temperature swings, chance of snow and wind chills near zero. Buckle up…let's go.
Clouds tonight and early Wednesday mostly have more bark than bite, but a passing disturbance may have just enough lift/moisture to bring out a few showers/light snow. The most likely area would be east/southeast of the Indy metro area. We don't expect much to no accumulation, but don't be surprised to see some snowflakes early Wednesday morning.
Otherwise, expect clearing skies and a pleasant seasonal afternoon with highs close to 50°. Fair weather for the first round of the Big 10 Men's Basketball Tournament at Gainbridge Fieldhouse.
Thursday looks like another sunny day with highs near/above 50° and probably our calmest day for a while. We are still targeting a developing storm system to move through central Indiana Friday through Friday evening. Although this feature is expected to intensify towards our east-southeast…there will be a period of snowfall from mid-morning Friday until around midnight.
Some accumulation is possible, but at this time it appears that deeper snow bands are more likely near/south of the Ohio River. We will refine in the coming days.
Confidence is much higher on the brief but bitter air that hits Friday evening through Saturday morning…when wind chills drop to near/below freezing. Saturday will be a really windy, wintry day with snow showers and lake effect snow showers in the morning and struggling 'tops' into the mid 20's despite increasing afternoon sunshine.
Sunday will be much warmer but windy as the highs will return to nearly 50° to end the weekend.