Live Doppler 13 Weather Blog Indy 500 Race Weekend Warmup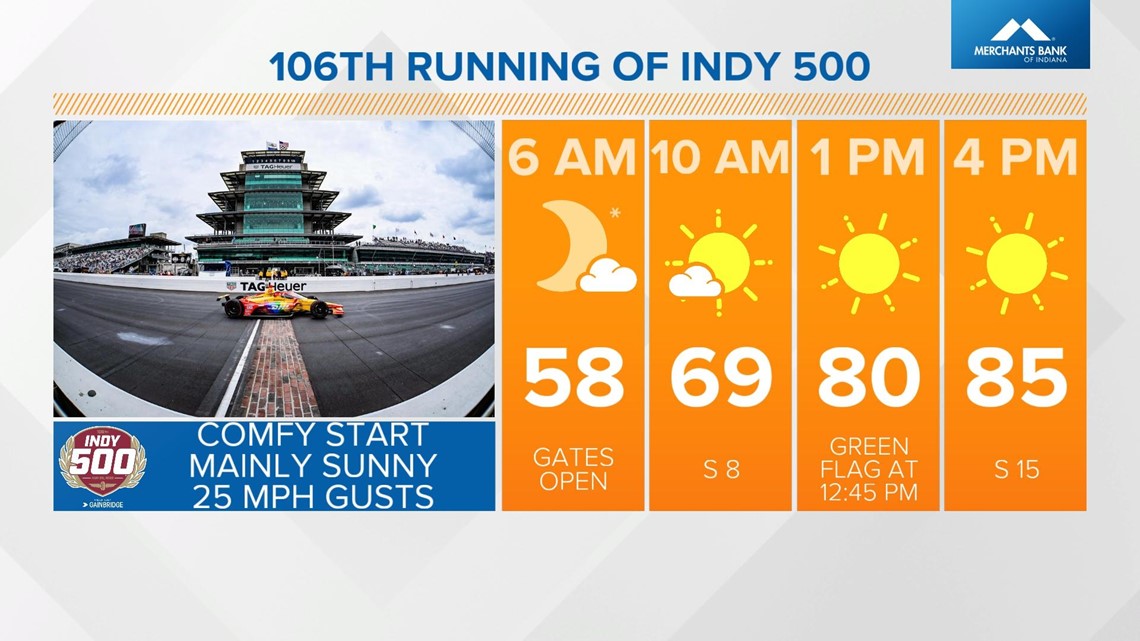 Temperatures on Saturday are expected to reach 70° with race day soaring to 80° with a southerly breeze.
INDIANAPOLIS – It will be a slow warming trend during the AES 500 Festival Parade with temperatures warming into the 60s and into the 70s. Look for the sun to return in the afternoon as temperatures rebound into the mid 70s, very seasonal for this time of year. Winds will shift from northwest to southwest this afternoon but will remain light up to 5 mph.
We have a great night coming up for the Legends Day concert at the TCU Amphitheater with Dierks Bentley. The show starts at 7 p.m. with temperatures dropping from the 70s to the 60s tonight.
Staying clear and seasonal overnight with lows in the upper 50s. That means a comfortable start to race day as the gates open at Indianapolis Motor Speedway at 6 a.m.
Temperatures will rise rapidly into the 70s in the morning and near 80s when the green flag flies at 12:45 p.m. Winds will increase with gusts to 25 mph at times Sunday afternoon, pushing temperatures into the mid-80s.
The warming trend continues for Memorial Day with temperatures reaching the upper 80s under mostly sunny skies. Also becoming wetter.
Look for highs near 90 on Tuesday, which will be the hottest day in the long-term forecast. Our next weather system will bring rain and thunderstorms Wednesday afternoon. Temperatures will still hit the mid 80s before the chance of rain and drop back into the upper 70s for highs for the rest of the week.