Live Doppler 13 Weather Blog: Hottest St. Patrick's Day in 10 years for Indy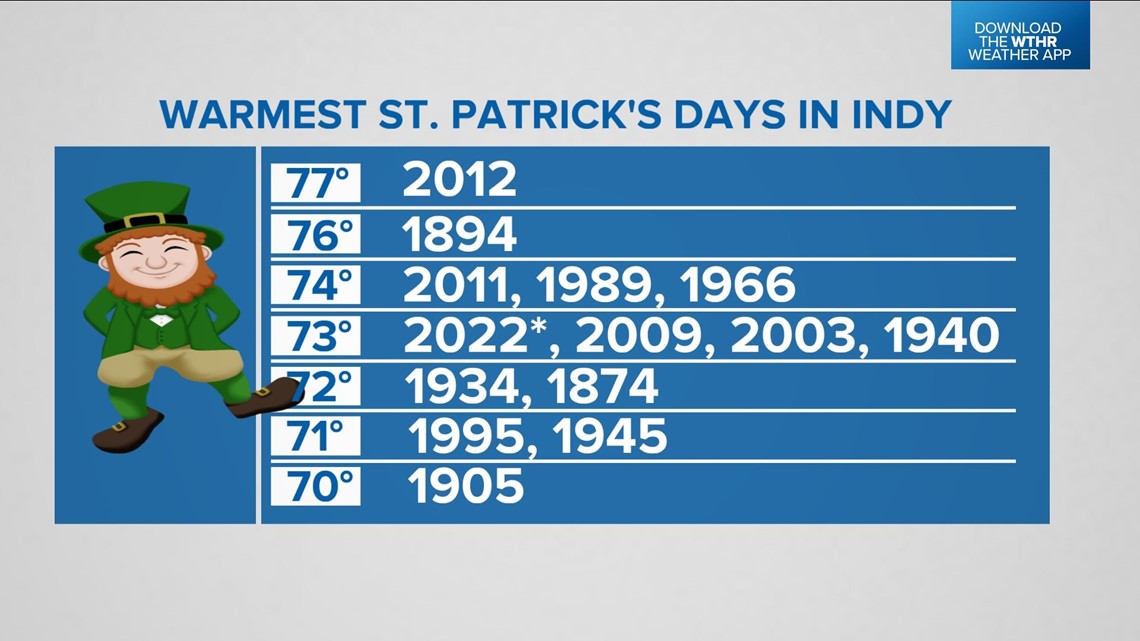 Highs in the 70s on Wednesday and Thursday before becoming wet and cooler over the weekend.
The stage is set for an even warmer day on Wednesday when highs hit the 70s for the second time this month.
A light rotation of the wind can provide some cloud cover, but overall we expect mostly sunny skies and temperatures around 20 degrees above average.
Although not a record, our forecast of 73 on Thursday would mark the hottest St. Patrick's Day in Indianapolis in 10 years, and only the 14th time, March 17, reached 70. Whatever Anyway, it will be a very pleasant day with only the slightest chance in the evening of a sprinkling and/or a shower.
Please take advantage of the good weather for the St. Patrick's Day Parade and NCAA Tournament First Round games at Gainbridge Fieldhouse.
You better take advantage, because we'll be in the crosshairs of a weather system on Friday that will bring rain, windy conditions and possibly much cooler (but closer to normal) air to start the weekend. .
Latest indications suggest a storm track closer to central Indiana and a slower track, both of which will lead to a wet and windy Saturday with wind-blown rain (perhaps a few snowflakes) and temperatures stable in the 40s.
Sunday seems to be the better of the two days this weekend.