LIVE BLOG: Follow Indiana's game with Connecticut in real time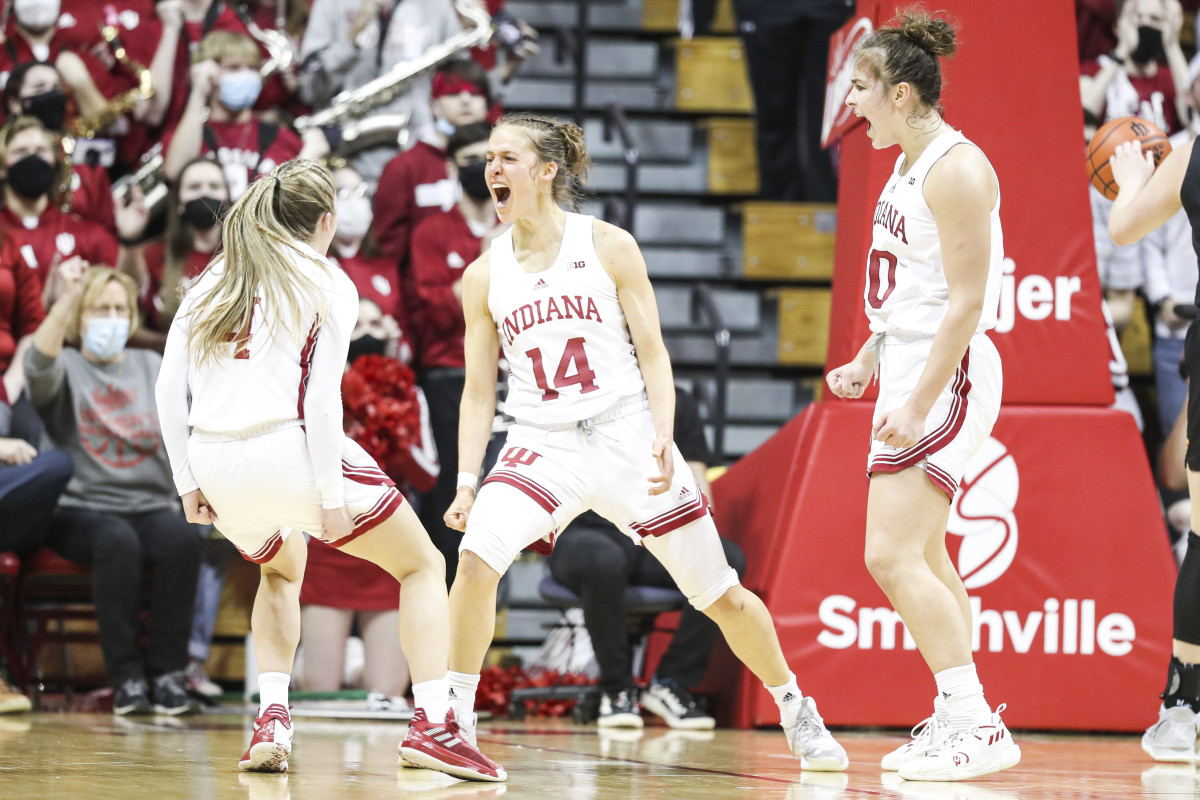 BRIDGEPORT, Conn. –Indiana's path to the Final Four runs through enemy territory on Saturday, when the Hoosiers take on Connecticut in an NCAA women's basketball regional semifinal with a decisive home-court advantage.
Indiana, the No. 3 seed in the Bridgeport area, takes on 2-seeded UConn just down the road for their campus, and Total Mortgage Arena is packed with Huskies fans.
The Hoosiers are 24-8 this season and beat No. 14 seed Charlotte and No. 11 seed Princeton to get here. It will certainly be a more difficult ordeal.
If you're unfamiliar with our live blog, we'll update you in real time straight from the news line here in Bridgeport, and bring you all the news and views in real time. We will also give some opinions and highlights. The most recent items are at the top, so keep refreshing.
Enjoy the game!
2:25 p.m. – UConn is warming up now, and they are up nine (35-26) after a 5-0 run. Teri Moren calls timeout.
2:20 p.m. — Ali Patberg hits a three for Indiana to tie the game at 21. She already has seven points and got the start the Hoosiers needed. And then she hits another one. It's 10 now, but IU needs a few stops. UConn leads 30-24.
2:15 p.m. – UConn ends the first quarter on an 8-0 run and takes the lead at 21-18. The Huskies have had a few easy looks there over the past few possessions but overall a pretty good quarter for the Hoosiers. They know they can score against them, which is good.
2:05 p.m. – Indiana is doing very well early. They lead 18-13 with two minutes left in the first, and four starters each have four points. The Hoosiers are 9 for 15 from the field the first eight minutes.
1:50 p.m. – The usual starting lineup for Indiana. Grace Berger, Ali Patberg, Aleksa Gulbe, Mackenzie Holmes and Nicole Cardano-Hillary.
1:45 p.m. — Fair warning. The wi-fi in this building is brutal. Hit and miss at best.
1:40 p.m. — Game 1 was a thriller, with No. 1 seed NC State coming back from a 10-point fourth-quarter deficit to upset No. 4 seed Notre Dame 66-63. It was a tough weekend for Notre Dame coach Niele Ivey. His son Jaden, a star of Purdue's men's basketball team, was eliminated from the NCAA tournament on Friday night by Saint Peter's.
Indiana Women's Basketball Related Stories
AURIEMMA PRAISE INDIANA: Legendary UConn women's basketball coach Geno Auriemma said Indiana was "smart as hell" and he wouldn't be surprised if the Hoosiers won the entire tournament. CLICK HERE
UCONN USED TO PLAY GAMES IN HIS BACKYARD: The Huskies have reached the Final Four 13 years in a row. For three of those trips, UConn played Storrs and Bridgeport, Conn. through the Final Four round. This year will be no different as Indiana takes on the Huskies in their backyard. CLICK HERE
FOUR BIG TEN FONT SWEET 16 TEAMS: Women's basketball coaches say this is the best conference for a reason. Indiana, Maryland, Ohio State and Michigan are each part of the Sweet 16 and all have a shot at winning the NCAA Tournament title, giving the NCAA a 25% chance of crowning a team Big Ten champion for the first time since 2006. CLICK HERE
NOBODY DESERVES VICTORIES LIKE ALI PATBERG: Four Hoosiers last played at Simon Skjodt Assembly Hall on Monday night to qualify for the Sweet 16. One player who has five seasons worth of memories and 4,264 minutes of game time invested in the schedule is goaltender Ali Patberg. CLICK HERE
NCAA WOMEN'S SWEET 16/ELITE EIGHT TOURNAMENT SCHEDULE: Here's a full breakdown of the NCAA Sweet 16/Elite Eight Women's Basketball Tournament schedule with location and TV times for each region. CLICK HERE