Indy Polls End as Nearly 56,000 Marion County Voters Voted – Indianapolis Business Journal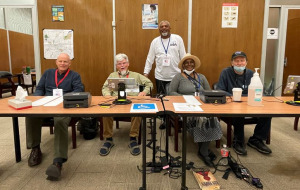 IBJ will update this blog throughout Election Day with the latest developments.
6 p.m.: Polls close in the Indianapolis area and the majority of the state
Polls around central Indiana and most of the rest of the state closed at 6 p.m. Tuesday.
Nearly 56,000 people had voted by then on Election Day in Marion County, according to Marion County Electoral Board Deputy Director Brent Stinson.
But there are still votes pouring in.
Those who are already online at 6 p.m. can still vote. And in parts of Indiana that are on central time, there's still an hour left.
3:05 p.m .: Voting centers accumulate voters
Despite reports of low turnout from some individual voting centers, more than three times as many Marion County residents had voted in nine hours on Election Day than during the month of in-person voting before Election Day , with several hours remaining.
About 38,367 voters had filled out ballots as of 3:05 p.m., according to Marion County Electoral Board Deputy Director Brent Stinson. That's well over three times the number of people who voted early in person: 11,234.
But there are also 182 places to vote on Election Day, compared to the nine township-based early voting sites.
"I don't know if the weather kept them away this morning, or maybe it's just the number of sites people can get to, just spreading demand," Stinson said.
"It's been a pretty good day so far," he added, describing a busy day (early morning, noon and early evening) punctuated by lulls.
Another 5,581 residents returned mail-in ballots, bringing the total so far to 55,182 votes cast.
And there are still three hours to go. Closing of polls at 6 p.m.
11:30 a.m.: Marion County election officials see some voters running in the Democratic 5-way contest for the state Senate
Election Day has been a part of Michael Crawford's life for 50 years, and he was back at the polls for Tuesday's primary election.
Crawford, son of the late State Rep. Bill Crawford, D-Indianapolis, served as an inspector at the City-County Building polling center.
"It's always exciting on primary day," he said.
Crawford, 64, began working in politics in 1972, the year his father first showed up at the Indiana Statehouse.
Bill Crawford, one of the longest serving black lawmakers in US history, served from 1973 to 2012. He died in 2015 at the age of 79.
Crawford noted that crowds at the City-County Building were slow around 10:15 a.m., with early voting reducing the Election Day crowd more than the rain.
However, Crawford said about 120 people had voted since he arrived at 9 a.m.
Bernice Corley was one such voter. Although Corley declined to say which candidate she supported, she said the race for Indiana Senate District 46 is important to her.
Five Democrats — Ashley Eason, Andrea Hunley, Kristin Jones, Karla Lopez-Owens and Bobby Kern — are running for the District 46 seat.
"I feel like it's our duty to do so, so I always vote," Corley said.
10 a.m.: Johnson County voters drawn by Republican contests for state attorney and representative
The two primary election races on the minds of Johnson County voters are two hotly contested Republican primaries for county attorney and an Indiana House seat in Franklin.
Former Johnson County District Attorney and Johnson Superior Court Judge Lance Hamner challenges incumbent District Attorney Joe Villanueva.
Political signs for both candidates can be found on almost every corner of Johnson County. The heated primary has also been the talk of the county on social media, with different voters posting messages in recent months about why they vote for Hamner or Villanueva.
Jessica Shaber of Franklin was one of the few voters who made it to the Franklin Arts and Recreation Center mid-morning. She said she thought the most important races locally were the prosecutors' race, with Indiana House District 47.
Incumbent State Representative John Young faces three main Republican opponents in District 47: Robb Greene, Luke Campbell and Scott Strother.
Shaber said she voted for Young and Hamner because they best matched her values.
"Their views and their ideals align best with what my views and ideals are, and what I want to raise my kids," Shaber said.
Garry Smith said he voted because he was "tired of the way things are going" with current elected officials representing the county.
He wouldn't name who he supported in which race, but said he thought it was time for new leadership.
"I think we literally have to dump the old and get the new," Smith said.
Supporters campaigning for Hamner, Villanueva and Young sat outside the community center, armed with umbrellas and raincoats.
House candidate Greene also stood outside chatting with incoming or outgoing voters.
He said turnout was slow in the morning, but he spoke to a few people coming in and out. Some were people who were going to vote, others who had just used the recreation center.
Greene, of Shelbyville, said he entered the running for the House 47 district because of his son who has special needs. Greene said he wanted to be an advocate for people with special needs, and he felt the General Assembly failed to do that. He also said he wanted to focus on workforce development.
He said he wasn't sure he could predict how he would fare in this primary, running into a crowded race against an incumbent and he expects turnout to be low. But he said overall he was hopeful in his chances.
"The last two years have kind of made more and more, you know, our community a little more invisible at the Statehouse. So, you know, at the core of my campaign, it's really about being a voice for this community," Greene said.
8:30 a.m. A trickle of voters say a sense of duty brought them to the polls
A light but steady trickle of voters squeezed their way past a line of voters at the Indianapolis government headquarters on Tuesday morning for the primary election.
Several voters said they made the trip downtown out of a sense of civic duty, rather than an interest in a particular race.
"That's what we do," said one woman, who wore a purple jacket to match her hair. She declined to be named.
"I just wanted to go out and do my job," said another man, dressed in grey, who also declined to be named.
Others wanted to boost specific candidates.
When asked why he ran, Marvin Smith II said he wanted to help Indiana Senate District 46 candidate Andrea Hunley get elected.
"Being a former educator, and still [working] in the educational space, someone who has actually been there and has experience is important, with her as the director [of an Indianapolis Public School]"Smith said.
Vince Steiner said that while passing Wheeler Mission, Denise Paul Hatch, Mounted Police candidate for Central Township Small Claims Court, asked him to vote for her.
"I thought, well, I'll do it for you, Denise. I'll take care of it," Steiner said. "…Today I heard in Starbucks, 'Hey, today's voting day,' and it might be the last day to vote, so I walked out, let it rain or shine."
Despite address confusion related to his homelessness, Steiner said he was able to vote.
6:02 a.m.: A Marion County polling station started the day by turning away voters
Carol Bryant carefully pushed open the door to the Salvation Army's Lewis Community Center squat in Fountain Square. Rain spattered and pooled on the concrete strip below. Out of range of fluorescent lighting: no voters.
For Carol and James Bryant, the married duo who run the polling center, it was no surprise.
"You know, in an off year and a primary, … pouring rain, I mean, you got three strikes against us," Carol Bryant said.
Half a mile away, at Indianapolis Fire Station 3, poll workers were redirecting the few morning voters to other voting centers as they worked to resolve some technical difficulties. A machine produced a long report until the harassed polling center inspector pressed the pause button and redialed a hotline number.
Robert Short, one of two polling center clerks on site, said that in his two decades of electoral work, he had typically seen about 100 voters on midterm primary election days. Short said he hoped the machines would be online by 7 a.m., but didn't expect turnout to be high.
When asked why he kept running polls on low interest days, Short said he just wanted to help.
"Someone has to help," he said. "I show my grandkids, my kids, you have to pass it on, no matter the adversity, the odds, how bad it is, you always do the job."