"I was proud of myself" – JoeBucsFan.com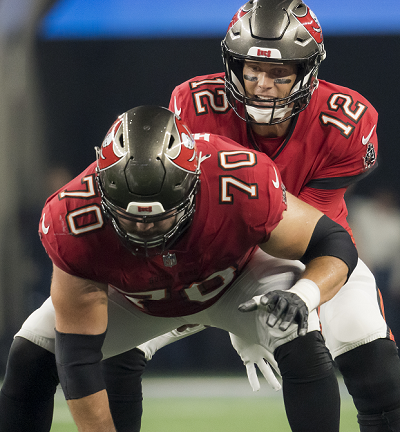 "I was proud of myself"
September 12, 2022
What a start in the starting lineup at center last night for sophomore Robert Hainsey.
It looked pretty damn good since the Buccaneers' 2021 third-round pick. "I knew who was who, what was what, and I was able to communicate that," Hainsey told the Buccaneers Radio Network.
Hainsey spoke at length about how comfortable he felt against Dallas in his first-ever start at the position. "I was proud of myself," Hainsey said.
So how comfortable was Hainsey? He said he felt so "calm" that he was able to guide and assist rookie left guard Luke Goedeke without missing a beat.
Much has been made of Hainsey working with former Bucs center and assistant offensive line coach AQ Shipley this offseason. Hainsey was learning the position, but Hainsey said today it was also time to learn the intricacies of the Bucs offense. And it helped Hainsey prepare for his debut on the big Sunday night football arrange.
Hainsey added that he learned a lot of patience and was inspired by the guy he replaces, Ryan Jensen, who wasn't a starter in his first two NFL seasons. Shipley also came on the bench in his first two seasons, Hainsey noted.
Joe has already watched the game several times and Hainsey looked competent and should be uphill from here.
Right guard Shaq Mason was a big help, Hainsey said, because "he's a good translator sometimes for what Tom sees."