Celebrity Cruises Takes Delivery of New Beyond Cruise Ship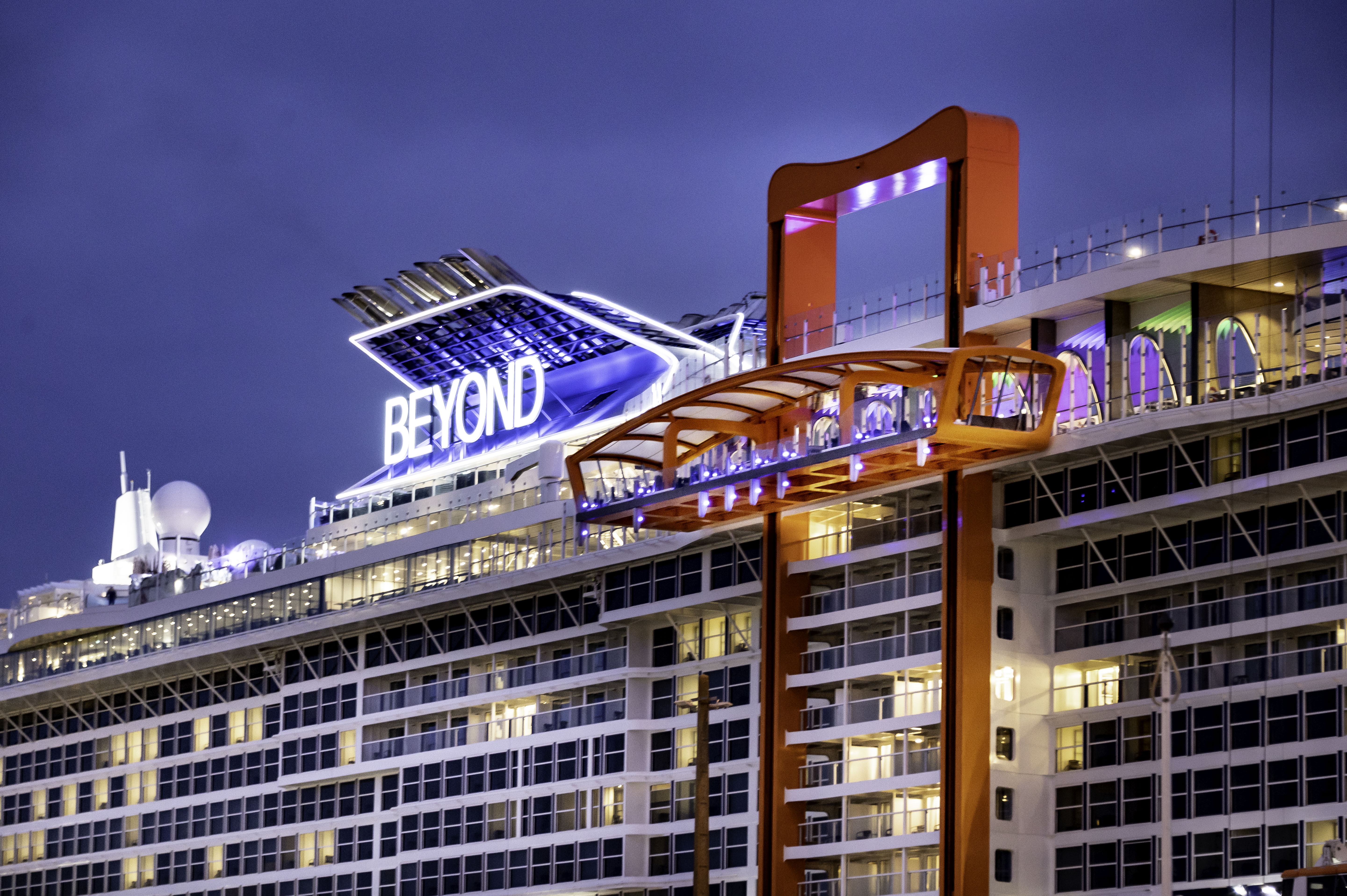 Celebrity Cruises has officially taken delivery of its newest cruise ship, Celebrity Beyond, which is the third and most luxurious ship in the fleet's new luxury Edge series. With an ultra-sleek design, Celebrity Beyond is innovative and transformative for the travel industry, delivering a luxurious cruise experience that is both effortless and meaningful.
Celebrity Cruises President and CEO Lisa Lutoff-Perlo honored the shipyard's many engineers, designers, architects and employees by accepting delivery of the cruise line's most luxurious cruise ship to date during of a celebratory ceremony in Saint-Nazaire, France.
Lutoff-Perlo said Celebrity Cruises is thrilled to officially welcome Beyond to its fleet. She exclaimed, "With innovative offerings that go far beyond the expectations of some of today's most talented designers, artists and creative minds, we believe Beyond meets the growing trend of people looking for seeks new personalized, effortless and meaningful luxury experiences. We see a continued desire to travel as business steadily increases, and we see Beyond leading the cruise industry into the next era of luxury. We are more than ready to welcome our guests on board and show them how amazing this ship is!
Lutoff-Perlo was also joined by Royal Caribbean Group CEO Jason Liberty and ship's captain Kate McCue as the cruise line officially took possession of Celebrity Beyond in France.
The Celebrity Beyond was moored at the Chantiers de l'Atlantique shipyard on this momentous occasion. Celebrity Beyond's delivery was particularly special as it was the shipyard's first physical delivery ceremony since the pandemic began.
With great fanfare and circumstance, the brand new Celebrity Beyond was delivered and welcomed by the cruise line with the traditional change of flag. Aboard the ship, excitement filled the air as an innovative new chapter began for Celebrity Cruises.
Others in attendance at the festivities included fellow Celebrity Cruise executives, shipyard officials and Beyond's 1,400 crew.
Chantiers de l'Atlantique general manager Laurent Castaing, shipyard, congratulated the employees for working tirelessly on the construction of the new vessel. She said: "Celebrity Beyond is a real new ship. We have worked hard, in a spirit of strong collaboration and even during the pandemic, to achieve this result. Celebrity Beyond is one of the exceptional ships that will be remembered.
To make this moment even more historic, Celebrity Beyond captain Kate McCue is the first female cruise ship captain in the United States.
Captain Kate McCue will take Celebrity Beyond on her maiden voyage departing Southampton, England on April 27, 2022 for a 10-night cruise to Spain, Portugal and France.
Following her maiden voyage, Celebrity Beyond will offer a variety of sailings through October to stunning Mediterranean destinations including the Italian Riviera, French Riviera and Greek Islands. After its inaugural season, Celebrity Beyond will head to the Caribbean to bring its effortlessly luxurious cruise experience to North America.
Designed with luxury in mind
Celebrity Beyond was designed to offer guests the opportunity to disconnect from their hectic lives while simultaneously reconnecting with all the beauty the world has to offer. Celebrity Beyond aims to create an all-inclusive cruise experience with the look and feel of a luxury boutique hotel.
With a sense of accessible luxury, Celebrity Beyond will feature culinary excellence from Michelin-starred chefs, attentive and intuitive service, dazzling entertainment and exquisite artistry.
The world's leading architects have carefully designed Celebrity Beyond entirely in 3D. Innovation is truly at the heart of Celebrity Cruises' forward-thinking design. Celebrity Beyond features a sleeker exterior profile while boasting 179 more suites than other Edge Class cruise ships.
With a gross tonnage of 140,600, Celebrity Beyond can accommodate 3,260 guests when sailing at full capacity. She has 1,646 cabins and will welcome crews from more than 60 different countries around the world.
Celebrity Beyond will also offer the largest selection of cabins for the cruise line and have more suites than any ship in its fleet. The incredible Edge Villa features 2 floors of luxury accommodations for guests looking to splurge on their next cruise experience. Suite guests can exclusively enjoy The Retreat, a multi-level terrace with plenty of space to relax.
Celebrity Beyond has also been designed with more outdoor space, offering 40% more outdoor space than the main decks of other Edge Class cruise ships. The Rooftop Garden and Grand Plaza, two iconic features of Edge-class ships, have also been redesigned. Cruise passengers can also grab a drink at Celebrity Beyond's brand new 2-story bar, Sunset Bar.
Perhaps Celebrity Beyond's most innovative feature is the Magic Carpet, the world's first cantilevered floating platform. The Magic Carpet elevates guests 13 stories above sea level and features a full bar with live music, as well as stunning views of the open sea.