Cam Brate Adopts New/Old Role – JoeBucsFan.com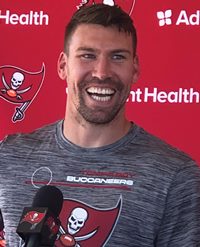 Not exactly by design, but right now your No. 1 Bucs tight end is veteran Cam Brate.
Almost from the start of Brate's career, it seems the Bucs have been trying to replace him. Even after hitting eight touchdowns in 2016, the Bucs came out and drafted flop OJ Howard the following spring.
Fast forward to 2020 and it was starting to become clear that Howard was the proverbial all-potential/little production guy, so the Bucs went out and signed tight future Hall of Famer, toe-rubbing Rob Gronkowski.
Gronk (maybe?) retired this summer. And guess who's still there? That would be Brate.
Brate, as Joe writes this, is the No. 1 tight end for the Bucs. Kyle Rudolph is still learning offense, rookie Cade Otten is still learning, and recovering from off-season foot surgery. So, by hook, crook, perseverance and skill, it's Brate's job now.
"The last two years behind 'Gronk', you know, he's a guy who can do it all. He's in there 90 per cent of the time, so for me, I think it's a bit more difficult role – when you don't play all the time and you kind of just get thrown out there on third down and have to beat man cover and stuff.

"Having had that experience, now where I'm probably going to be used a bit more on the first few tries, I love it – kind of getting into the rhythm of the game. [I'm] excited for this challenge and looking forward to it.
It's interesting to Joe that Brate mentions the "pace of the game" – that he feels more comfortable getting more shots on the first try rather than being used primarily as a transmission specialist.
Joe suspects that as Otto progresses he will get more shots. And of course, the faster Rudolph becomes familiar with the attack, the more his snaps will also increase.
The fact that Brate, whether by design or by chance, often seemed to fight for a spot on the roster, but is now entering his ninth season with the Bucs says a lot about the Naperville, Illinois native.