Blog Weather: Almost 90 degrees this week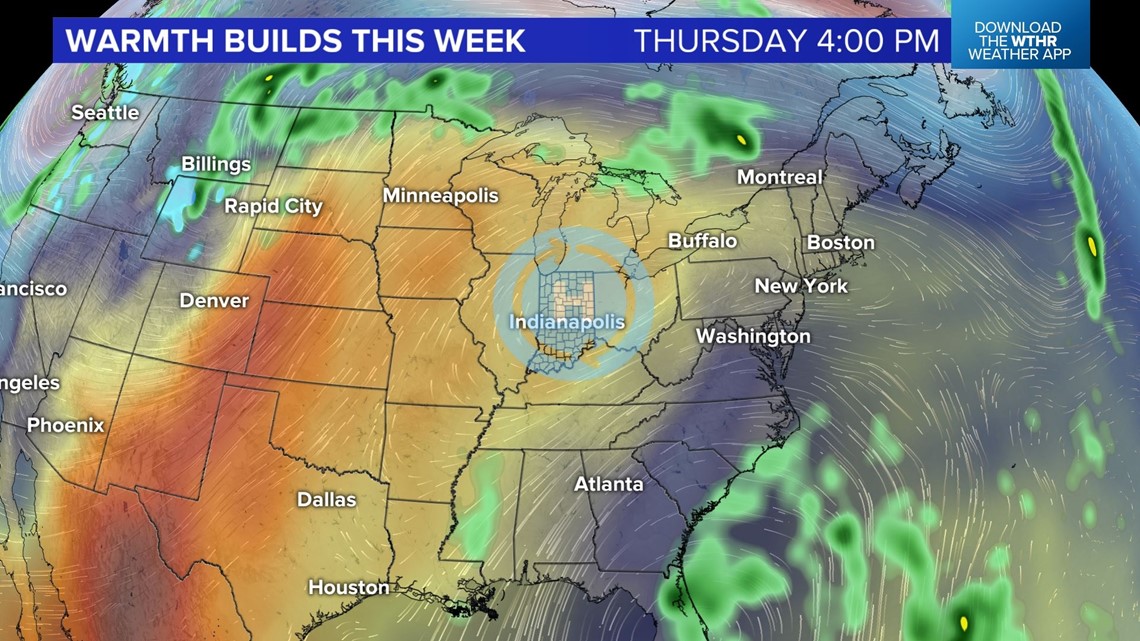 The warmest air since mid-September is expected to arrive in the middle of this week with near daily records.
INDIANAPOLIS – Mother's Day turned out to be quite a pleasant weather day in central Indiana and will also be one of our coolest for a while. The air mass currently in place will produce comfortable lows overnight in the 50s with some high clouds moving across the state.
Expect rapid warming on Monday as the sun mixes with mid to high level clouds. Midday temperatures near 70° climb to near 80° by late afternoon with a rather stiff southeast wind of 15-20 mph and gusts of 30+ mph in the afternoon/evening.
The wind becomes more southerly at the surface Tuesday and combines with an expanding upper pressure system to favor warmer days. Mid-80s highs reach mid-80s highs on Wednesday and Thursday, possibly defying daily records. Either way, expect temperature anomalies of 15° to nearly 20° above average with a more summery feel than early May.
At the same time, this upper high diverts rain and storms around the Ohio Valley with a very low chance of rain through Saturday and especially Sunday of next weekend. This is exactly what the doctor ordered local farmers to get in their fields for planting.
There will be occasional mid/high level debris clouds drifting into central Indiana from upwind storms, with a slight chance of stray rain by next weekend.
For what it's worth, the last 89° day in Indianapolis was September 19, 2021 (89°) and the last 90° day was August 29 (90°).